Microwave Multispan Detector
BSS200-P1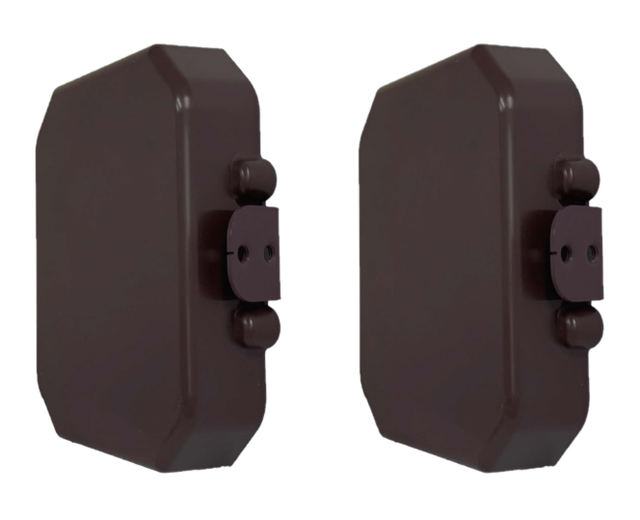 Microwave Multispan Detector
Security for plant and facilities, etc.
Applying to various needs from temporary to fixed installation.
BSS200-P1, Microwave Multispan Detector is an intrusion detection sensor using 24GHz microwave.
The sensor will detect intruder by intercepting activated detection area consisted by each Tx and Rx.
※Compliant with ARIB STD-T73
Feature
| | |
| --- | --- |
| Strong to out-door environments | Keeping reliability against environmental changes such as rain,wind,snow,and fog. |
| Easy adjustment of equipment | Unneccessary adjustment of beam-axis. |
| Consideration is unnecessary for the place of installation | Such as along the wall, and over the fence. |
| Easy installation | Achieving easy installation by compact size sensor and symplified I/F. |
Specification
Model
BSS200-P1
Detection method
Opposite line microwave beam intercept detection method
Detection area
Detection width:φ0.2-0.4m
(changes according to installation environment)
Separation of units installed:3~50m
Oscillation frequency
24.050~24.2500HZ
Possible number of units for simultaneous operation
1 stacked sensors: 45 units
2 stacked sensors: 18 units
3 stacked sensors: 9 units
Oscillation output power
10mW max.
Material
Radome:AES (weather-proof resin) Backside cover:SUS304, Heat sink:A6063
Outer drawing
H 106 × W92×D37mm
Power supply
DC9~28V
Weight
355g±5g
Operating ambient temperature
-20~60°C (No freezing and condensation)
Consumption power
below Typ.3W(below Max.7W)
Level of water protection
IP67
Storage ambient temperature
-30~75℃ (No freezing and condensation)
Multiple stack installation
3 stacks
I/F
Alarm output×1 
Inspection input×1 
Option
Mounting brackets
Outline drawing (Unit: mm)

Option
※Specifications are subject to change without notice.
※As for the products shown in this catalog, we assume no responsibility in the event of any theft, accident causing injury or death, disaster, and environmental disruption as well as any accident damage by misuse of the equipment insufficient maintenance checks, acts of God (including lighting-induced surge), or the like.

Catalog
---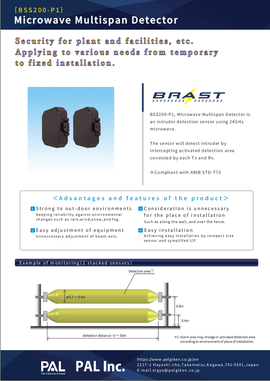 ---
---