Microwave Intruder Detector
BSS01/BSM02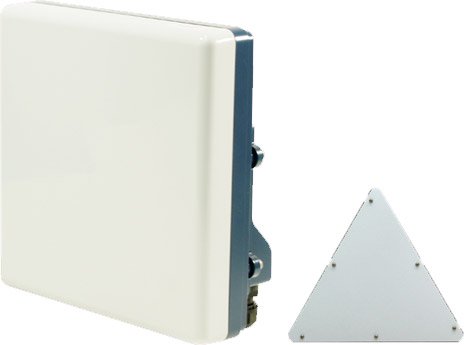 Microwave Intruder Detector
Intruder detector resistant to natural environment
IN WHICH DISTANCE MEASUREMENT IS POSSIBLE
Because of the used of radio waves(microwave), the detector is resistant to weather conditions such as rain, wind, snow, and fog, causes less detection errors even in outdoor locations under environmentally harsh conditions.
Feature
| | |
| --- | --- |
| Strong to out-door environments | Keeping reliability against environmental changes such as rain,wind,snow,and fog. |
| Long-distance monitoring | If the human body, in the standalone type up to 100m, and the opposite type can be monitored up to a distance of 200m. |
| Wide detection ranges | Detection area is dependent on the angle of the antenna beam, which covers a wide area in a single detection sensor as compared to the infrared sensor. |
| Intrusion detection can be located | Since intrusion location is detectable, it is possible to set intrusion detection area and non-detecting area. |
| Setup adjustment and addition of sensor are easy | Severe optical axis alignment like infrared sensor is unnecessary. Since sensor itself can avoid radio wave interference, sensor can be added easily. |
| Reduce the non-detection and false alarm | Method is adopted FMCW, in order to detect the intrusion in the distance and the reflection level, reduction of the non-detection and false alarm. |
Specification
Model
BSS01/BSM02
Output power
FM-WC
Detection method
[Standalone] Microwave ntercept method
[Opposite] Microwave reflection detect
Sweep frequency
200MHz max.
Frequency
24.05~24.25GHz
Antenna directionality
E-plate : approx. 6° H-plate : approx. 15°
Output power
10mW max.
Dete ction range [Standalone]
3.5~100m (Standard reflector)
Alarm width : Confirms to the antenna directionality
Requirement : No weeds and trees
Dete ction range [Opposite]
0~200m (Standard reflector)
Requirement : No weeds and trees
I/F
Alarm:2, Tamper:1, Monitor:1
Ethernet (100Base-TX/10Base-T)
Outline drawing
190(W)×196(H)×92(D)
Materia ls
Radome : AES
Backsi de cover : Aluminum
Input voltage
DC type:DC11~30V (polar)
PoE type:IEEE802.3af compliant
consumption Power
Typ.7.5W (Max.15W)
Operating temperature
-20~60ºC
No freezing or condensation
Storage temperature
-30~75ºC
No freezing or condensation
Waterproof
IP67 (Compatible)
:Cable O.D. range:8.5~14mm (1 hole)
:Connector O.D. :14mm or less (RJ-45 compatible)
Synchronized operation
3.5~100m (Standard reflector)
Outline drawing (Unit: mm)

Option
※Specifications are subject to change without notice
※As for the products shown in this catalog, we assume no responsibility in the event of any theft, accident causing injury or death, disaster, and environmental disruption as well as any accident damage by misuse of the equipment insufficient maintenance checks, acts of God (including lighting-induced surge), or the like.

Catalog
---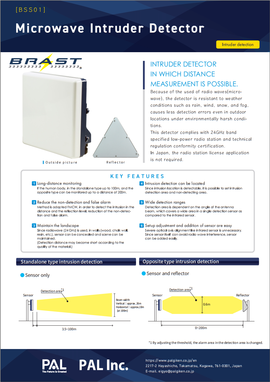 ---
---